649. Occurrence given to Raymond Aguilera on 27 November 1990 at 10:30 PM.

On Thanksgiving Day, November 28, 1990 four years ago and almost at the same time another miracle happened to me. On the night of the 27th the day before Thanksgiving 1990, I had been hearing all kinds of voices some from the devil and some from God and had been doing a lot of arguing with God about my special friend. I was totally mixed up. I tried to explain to the Holy Spirit that I couldn't believe anything that was being said. So I just got mad at God and I told Him that I didn't want to hear anymore from Him. That I was going to stop listening to any voice.
Voices kept telling me that my special friend was no good and other voices kept telling that she was okay. During this time in my life every conceivable thing was said to me. So I got mad at God. I started arguing with Him the minute His Presence came into my room that Thanksgiving eve. At about 10:30 PM. that evening I remember I argued with the Holy Spirit and kept saying No!! to everything He said. The Holy Spirit kept saying this and that, and I kept saying No!, No!, No! to everything the Holy Spirit said. I would cover my ears and say, "No!, No!, No!, go away. I am not going to listen to anyone anymore. For I thought He was a demon. I was very adamant about it. I tried binding it and rebuking it. You name it, I tried it. Finally the Holy Spirit stopped.
I thought whatever it was; it finally gave up. By this time it was 3 AM., Thanksgiving morning. So after a few hours of sleep I got out of bed about 9:30 AM.. I took a shower and was getting ready for a Thanksgiving Church service. I didn't know what time it was suppose to start. So I placed my wrist watch on the bathroom sink so I wouldn't forget it and proceeded to get ready. Once I had gotten myself cleaned up, I was on my way to church and still mad at God. I had been on the road about twenty minutes and realized I didn't know if I was early or late for the church service. So I looked at my watch and noticed I had no watch and had left it on the bathroom counter. I was still very upset and decided to proceed even if I was an hour early and wait in my car until the service started.
To my surprise, I reached the church about fifteen minutes before it started. I went into the church and sat down near the front. During the worship I saw an image of Christ in the front of the church behind the pastor, but I still didn't know what I was seeing, what it was or who it was. I still had a lot of doubt. I remember telling a friend that sat next to me what I saw. She was shocked of what I could see. The pastor started giving a sermon after the worship and during the sermon the pastor said we should thank the Lord for all the blessing we had received during the year. I was still feeling bad because I didn't know who I was rebuking. So I repented.
I said, "Lord I am sorry if I offended you, but I really don't know who was talking and who to believe and I apologized to you Lord if I am wrong."
Then within a second or two after I had repented. I noticed something on my wrist. My watch appeared on my wrist out of nowhere. It totally surprised me. I was shocked. I told my friend that was setting next to me.
I said to her, "The Lord placed my watch on my wrist. It wasn't there before."
She said, "What!!
I said, "The Lord placed my watch on my wrist for I had left it at home on the bathroom counter and look I have my watch."
She was all excited and I was too. So after the service I told the pastor what had happened and that I had gotten into an argument with God. And that the Lord was showing me His power.
"No," said the pastor, "I don't think it has to do with power, I think it has to do with time. I don't think it has to do with power," he said again. I think it has to do with time.
But I didn't believe him. Then a day later I was telling a sister in the Lord what had happened and she said the same thing.
She said, "If the Lord wanted to show you His power. He could send you to China. He didn't need to place your watch onto your wrist."
With this second confirmation, I was beginning to see that they were right. That evening the Lord appeared again. And that was the evening that the Lord told me to go an anoint Mt. Diablo on, Sunday, December 2, 1990, and to tell the Friday night singles group that the Lord wanted people to go an anoint the mountain. For He was going to take the mountain away from the devil.
This whole thing was overwhelming for here four years later the Lord performs another miracle ALMOST TO THE HOUR by moving a wrongly drilled door knob hole a 1/4 of an inch. So my new bedroom door wouldn't be ruined. This Lord, this God of ours, never ceases to surprise me. He seems to be miles, miles and miles ahead of me at all times. I still argue with Him. I still love Him. He is still forgiving me. A very merciful God. Yes, very merciful! I guess that's all. (over)

---
e-mail: Ray@prophecy.org
To help support this ministry click here.  
or write to: Raymond Aguilera, PO Box 20517, El Sobrante, CA. 94820-0517, USA.
To order the Prophecy Books Click on the Book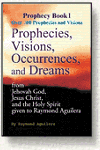 To help support this ministry by purchasing one of our painting Click here.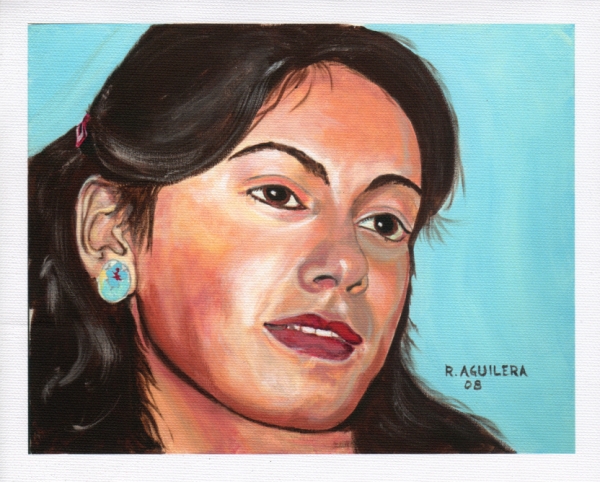 Artwork Youtube Video


To view Raymond Aguilera's artwork Click here
Copyright © 1989-2013, Raymond Aguilera, Prophecy.org (sm) All Rights Reserved

---